One-Up's mission is to prepare young men to become responsible, mature, and principled leaders, with the capacity to be of service to their family, friends and communities. 
One-Up is a leadership program for young men in high school. It helps participants develop as strong students and leaders, teaching them the virtues necessary for greater success throughout their lives. One-Up takes place every Saturday from September to April at Ernescliff College, a student residence for men on the University of Toronto campus.
The program offers participants the opportunity to develop leadership skills, receive personal mentoring, broaden their horizons and forge lasting friendships.
Develop leadership skills
One-Up encourages each participant to become a virtuous leader and man of character by means of a variety of classes that lay the foundation for a successful high school career and responsible adulthood. Topics range from developing study skills and proper goal setting, critical thinking, public speaking, cultivating personal talents and also career exploration.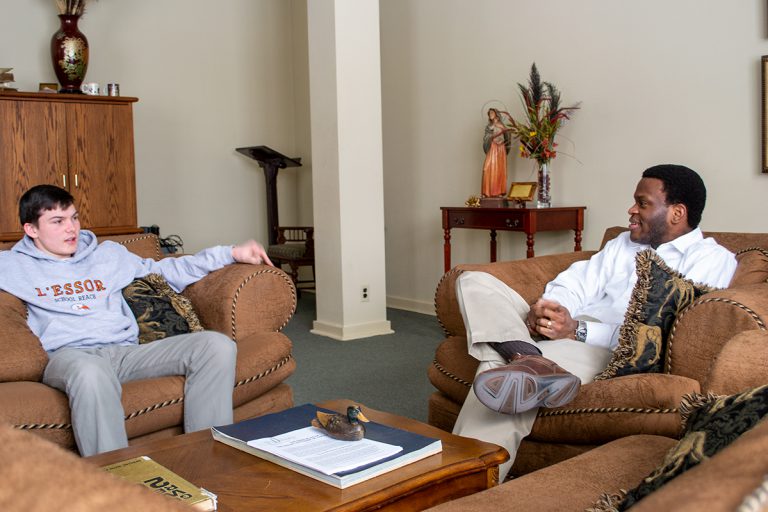 Receive personal mentoring
One-on-one mentoring is the keystone of One-Up's program. Each participant is assigned a mentor who can help him personally to find practical applications for the principles discussed in classes. Specifically, mentors challenge and encourage participants to set goals for themselves, then track and achieve them.
Broaden your horizons
Through sports, excursions, social service projects and other activities including movie productions, the One-Up activities help each participant to expand their interests and develop their talents.

Ernescliff College also offers Christian formation for those who are interested. This includes courses on Catholic Doctrine, spiritual direction, days of recollection, and spiritual retreats. For the most part, these take place every Saturday before the One-Up activities.
Forge lasting friendships
Participants are able to develop lasting friendships with their mentors and peers as they engage in thoughtful discussion, work together to complete projects, and compete while playing different sports.
Frequently Asked Questions